That camera was a gift from See Ming's father. Being a school kid who proudly owned a camera at his age, See Ming was overly excited and carried it constantly on a daily basis.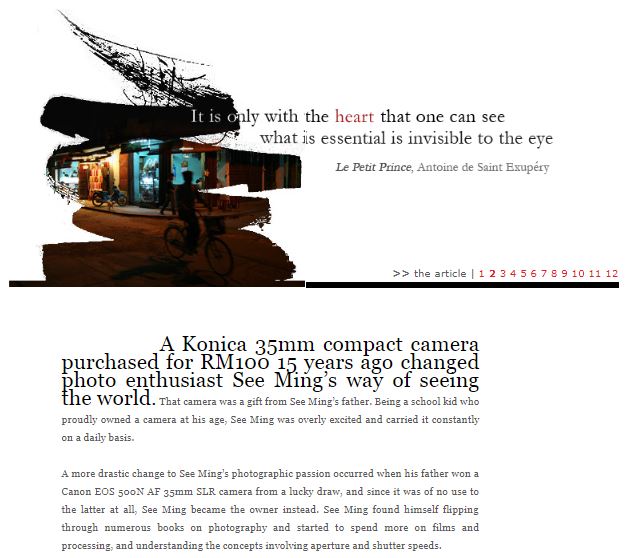 A more drastic change to See Ming's photographic passion occurred when his father won a Canon EOS 500N AF 35mm SLR camera from a lucky draw, and since it was of no use to the latter at all, See Ming became the owner instead. See Ming found himself flipping through numerous books on photography and started to spend more on films and processing, and understanding the concepts involving aperture and shutter speeds.
See Ming reckoned he was destined to be a Canon user all the way, after his brother brought back a Canon EOS Elan II E (EOS 30 in Asia) AF 23mm SLR camera from USA, with a dozen filters and other accessories. With such a wide range of photographic items at his disposal, See Ming felt like turning into a professional photographer overnight, but reality set in and he knew he was all geared up for an endless photographic endeavor limited only by his creativity and vision.
At one stage, See Ming did put aside his passion for photography when he started to discover the wonders that Adobe Photoshop 3.0 could bring. He spent more time on producing digital graphics rather than shooting, until digital cameras came of age. He started off with a 3MP Fuji FinePix 6900Z, which he used for two years before upgrading to the 6.3MP Canon EOS 300D digital SLR.
It wasn't long before See Ming sold off the EOS 300D and bought the 8MP EOS20D as a replacement as he rekindled his passion for photography through the wonders of digital equipment. Photography continues to be See Ming's favourite pastime; therefore he is extremely happy with what his Canon EOS 20D can deliver, even without owning any of Canon's L-series lenses. He has no intention of upgrading to an EOS 30D or EOS 5D at this point.
DCM ★ Article from Malaysia edition of Digital Camera Magazine, issue 6 published on June 2006